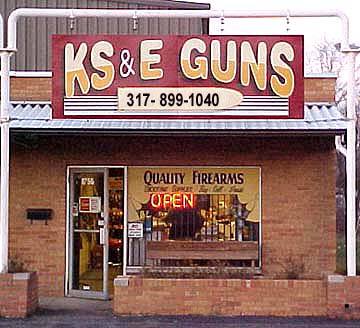 KS & E Sports
8756 Pendleton Pike
Indianapolis, Indiana 46226
317-899-1040
11am-3 pm Monday-Friday
11am-3 pm Saturday
Closed Sundays

Only One mile East of I-465 on Pendelton Pike (Hwy 67), on Indy's Eastside.

Rifles - Browning, CZ, Henry, Marlin, Ruger, Savage, Winchester, Marlin, and more.

Shotguns - Browning, CZ, Charles Daly, Mossberg, Winchester, and more.

Pistols - Browning, CZ, Charter, Kel-Tec, Ruger, Smith and Wsson, Taurus, and more.

New and used firearms available.

Shooting accessories. Holsters, locks, cleaning, lights, scopes, and more

Military surplus rifles and pistols.When we can get trhem -
SKS rifles, Nagant revolvers, CZ-52 pistols,.Mosin Nagants 91-30. AK-47 Variants.

Master Dealer in Leica and Minox binoculars.
Leopold Scopes

CZ-USA Direct Master Dealer for Rifles, Shotguns, and Pistols. Largest in Indiana.
Many new CZ products

Ask about weekly specials, on firearm and ammo.
Sorry sales only to Indiana Residents, or thru FFL or C-R FFL.
No email (we are getting there soon), so please call Ed or Darrell 317-899-1040 during business hours
---
© Copyright 2001-2023HGW || Site created by
HGW
---